Jake
Series: Immortals of New Orleans, #8
Genre: Paranormal Romance
Release Date: May 20, 2017
---
---
Rise to Alpha
With Alpha blood coursing through his veins, charismatic wolf Jake Louvière, can no longer deny his true nature. As his beast demands his rightful place within Acadian Wolves, he's forced to choose between killing his Alpha or leaving New Orleans forever. When a mysterious woman trespasses into the bayou, Jake is instinctively wary of the creature that is not wolf. Inexplicably drawn to her, he attempts to resist her magic as it weaves a seductive spell. As quickly as she appears, the dangerous beauty is kidnapped by a powerful New York vampire, and Jake swears retribution against an old adversary.
For centuries, Kai Beckett concealed her true identity from those who would steal her ancient powers. Risking everything to save her sister, she searches for the Alpha who'd left San Diego to return to his Cajun roots. Jake, a mate worthy of her spirit, seeks to tame her wild nature but she is not one to easily submit. As Kai surrenders to her attraction to the Alpha, she embraces her darkest fantasies.
From New Orleans to Southern California, Jake and Kai are surrounded by intrigue and danger. Learning to trust each other, they fight lethal enemies and the irresistible connection binding them together. As they spiral into an erotic adventure, will Jake acknowledge Kai as his mate? With a nefarious enemy seeking to capture her, will Jake rise to Alpha, saving both Kai and his pack?
*Warning: This book contains several erotic love scenes, including m/f/m ménage and is intended for adult readers only.
---
---
---
---
Amazon
~
Barnes & Noble
~
iBooks
~
Kobo
~
Smashwords
Grab the rest of the Series
Kade Dark Embrace (Immortals of New Orleans, Book 1)
Luca's Magic Embrace (Immortals of New Orleans, Book 2)
Tristan's Lyceum Wolves (Immortals of New Orleans, Book 3)
Logan's Acadian Wolves (Immortals of New Orleans, Book 4)
Léopold's Wicked Embrace (Immortals of New Orleans, Book 5)
Dimitri (Immortals of New Orleans, Book 6)
Lost Embrace (Immortals of New Orleans, Book 6.5)
Jax (Immortals of New Orleans, Book 7)
---
---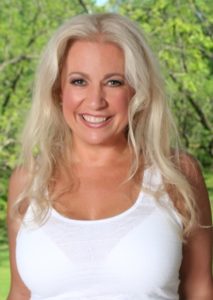 Kym enjoys reading, tennis, zumba, traveling and spending time with her husband and children. New Orleans, with its rich culture, history and unique cuisine, is one of her favorite places to visit. Also, she loves traveling just about anywhere that has a beach or snow-covered mountains. On any given night, when not writing her own books, Kym can be found reading her Kindle, which is filled with hundreds of romances.