Their Virgin Mistress
by Shayla Black and Lexi Blake
Series: Masters of Ménage, #7
Genre: Erotica
Release Date: April 14, 2015
---
---
One wild night leads to heartache…
Tori Glen loves her new job as an image consultant for Thurston-Hughes Inc. The trouble is, she's also in love with the three brothers who own it, Oliver, Rory, and Callum. They're handsome, successful, aristocratic, and way out of this small-town Texas girl's league. So she remains a loyal professional—until the night she finds a heartbroken Oliver desperate for someone to love. Tori knows she should resist…but it's so tempting to give in.
And a desperate plan…
Callum and Rory have denied their desire for Tori, hoping she'll heal their older brother, who was so brutalized by his late wife's betrayal. But when Oliver cruelly turns Tori away in the harsh light of day, she tenders her resignation. Rory and Callum realize that to save their brother, they must embrace the unconventional sort of family they've always wanted—with Tori at its center. And it all starts with seducing her…
That could lead to happily ever after—or murder.
Isolated with the brothers at an elegant English country manor, they begin awakening Tori to the most sensual of pleasures. But consumed with regret, Oliver won't be denied the chance to embrace the only woman worth the risk of loving again. What begins as a rivalry veers toward the future they've only dared to dream of. But a stranger is watching and waiting for a chance at revenge. Can the brothers come together to embrace the woman they love and defeat a killer?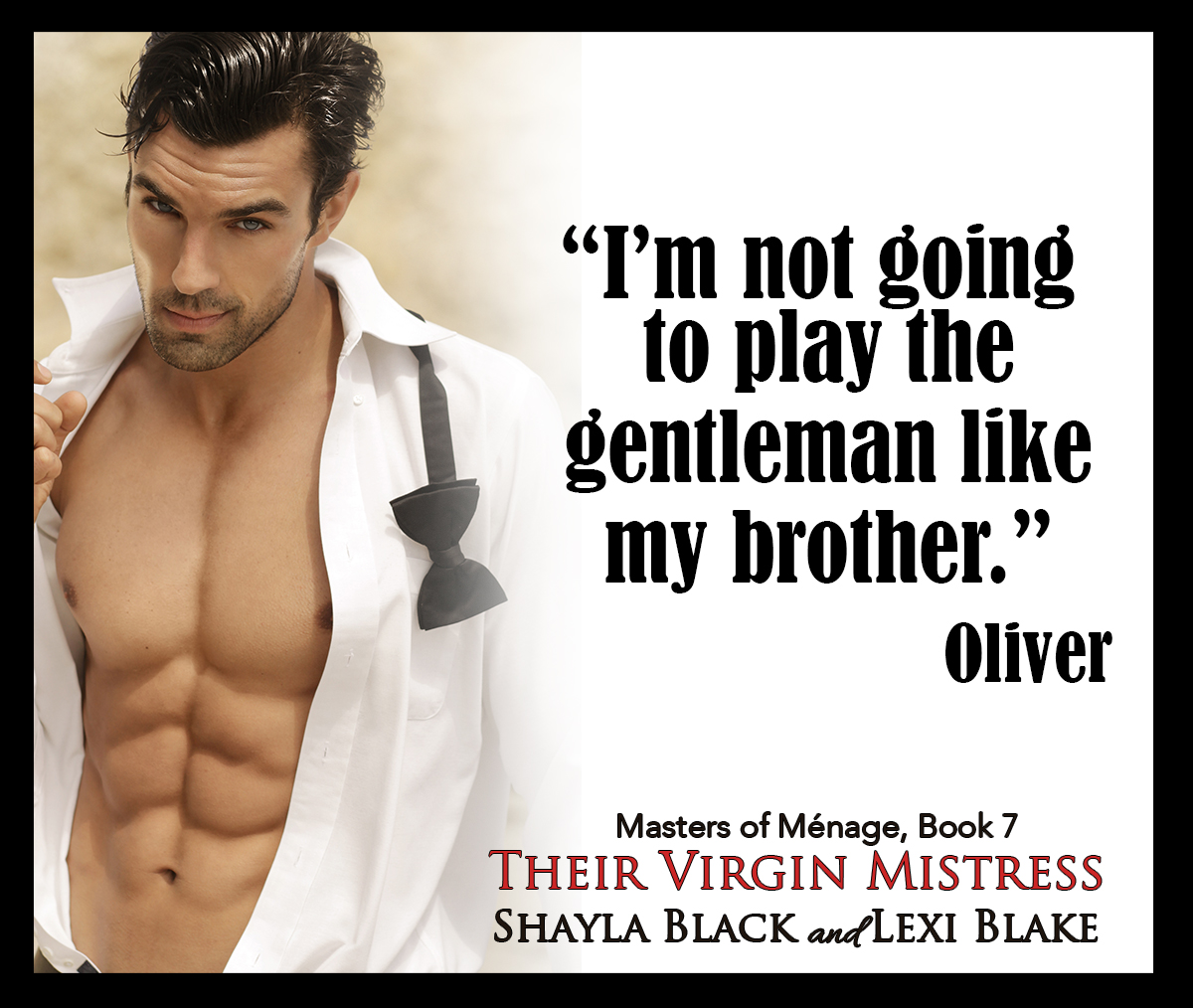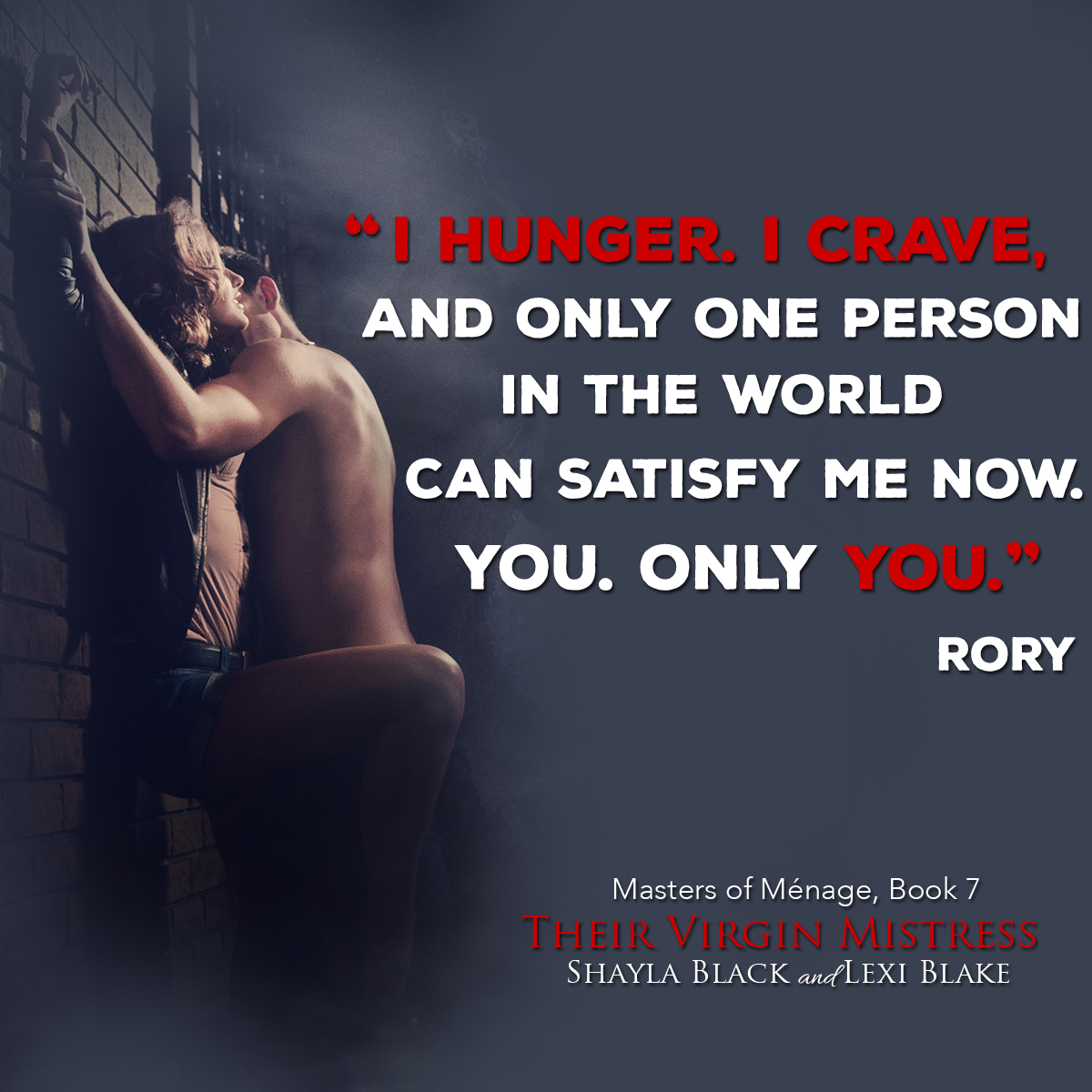 ---
---
"Rory, what are you doing?" she demanded.
He was supposed to be the reasonable one, but he'd proven that looks could be deceiving.
Rory kicked opened the door to the hallway. Kicked it open. Yeah, nobody noticed that and it certainly didn't make her ovaries melt at all. Nope. She didn't like this side of Rory. Well, no part of her except those softening pink bits and maybe her heart.
"I'm taking charge." He strode down the hall. He didn't pause or hesitate. When he walked past reporters, he didn't bother to look their way. He was a man on a mission.
"Put me down! You can't carry me off. I thought I was supposed to smile at the press and make my nip slip go away." Though she'd actually planned to be long gone by now, Tori realized it was too early to leave.
"I don't care about that. Your breast looked stunning. If it ends up on the front page, I'll make a poster of it. I don't care what other people think. I'm done with that and you need to be done with it, too." He stopped when they passed a security station. The guards allowed them into the palace's private family wing. One even grinned as he opened the door for them.
Once the door closed, they were alone in a grand foyer. The heavy portal blocked the sounds of the party. Now that her surroundings were quiet, she could practically hear her heart pounding.
Finally, Rory stopped, and she found herself on her feet again. Tori tried to catch her breath as he pressed closer and invaded her space. "This is too fast."
His fingers brushed her jawline. He dipped his head low. "No. We've dragged this out for months. I won't slow down. Now that I've made the decision, I can't wait any longer."
His mouth descended on hers in a slow slide. He clutched her hips, pulling her into the cradle of his muscular thighs. His lips took hold of hers, molding in a dominant glide. Her whole body went soft and she was grateful for his arms around her. They held her up when all she wanted to do was drop to her knees.
Rory was kissing her. Finally. Callum had mentioned topping her. She knew what BDSM meant to well-meaning Doms. It meant they cared about her. It meant they protected her and watched over her. She might be naïve, but that was what it meant to her sister and husbands. BDSM didn't guarantee a happily ever after, but it should mean she got a say in whatever happened. If they were going to this much effort, surely she meant something to them.
Tentatively, she let her hands roam Rory's shoulders and back as his tongue plunged inside her mouth. There was no questioning lick. He dominated, delving deep. His tongue slid along hers, luring and tempting Tori.
Every cell in her body seemed to soften, and she felt her pussy growing slick and wet. Heat burned through her flesh, and she slid her left leg against his to get closer. Rory answered with a groan, pressing her against the wall and pushing his erection against her. He felt so big, so hard. Tori writhed against him, trying desperately to rub herself against his cock and satisfy her growing ache.
His forehead pressed to hers as he took a long breath, trying to calm himself. "Keep doing that and I'll prove to you I don't mind risking a scandal. I'll pull up this skirt and fuck you right here."
She had to be the sensible one. "I don't think this will work."
"The sex will be divine. I already know it."
Tori had no doubt of that. "I meant anything more."
"We'll make it work, sweetheart." He brushed another kiss against her lips.
All the reasons it couldn't work pressed on her. The Thurston-Hughes brothers were overwhelmingly possessive men. How could they share? They fought. Would they fight over her? She'd seen Callum's anger at Oliver and she'd wondered… "Why were Oliver and Callum fighting the day the reporter came to the office?"
Even as she asked the question, her hands roved over Rory's hard form. The woman inside her wasn't sure she wanted the answer right now. That part of her craved what these brothers could give her. She might have been a virgin until Oliver, but she wasn't stupid. He could offer her more. They all could, and she wanted to feel the pleasure she'd been denied her first time.
He kissed the line of her jaw, then his tongue found her pulse point, making her shiver with desire. "You, of course. You didn't see the very nice punch I landed. We were fighting over you, but that's not going to happen again. We've talked in detail. Now we're a united front."
For how long? If she only wanted a night, it didn't matter…but deep down, Tori suspected she wanted far more.
Every cell in her body quaked as he kissed her neck. "Rory, I don't know."
"Yes, you do. You've always known." He took a step back. "But I'm going to give you a choice. If you're scared, walk back into that ballroom and I'll consider the matter finished. I'll talk to Callum and Oliver, and we'll court you in a more proper fashion. We'll be polite and escort you out and take turns like gentlemen. But if you walk into that room with me, there won't be anything polite about the way we take you. I won't be a gentleman. I'll be a Dom. Your Dom, and you'll know what it means to be utterly possessed by three men who can't breathe without you. We'll start preparing you because we're going to take you in every way a man can take a woman. Think about this because you're selecting the path we travel. Polite and proper? Or as wild as you can handle it? Do you want to know what it means to submit to men who love you?"
"Yes." The word was out before she could think about it. It didn't matter. Despite all the reasons she shouldn't do this, she couldn't walk away.
"Then come with me." He grabbed her hand and strode down the hall.
Tori hurried after him, knowing nothing would be the same again.
---
---
---
---
Shayla Black
(aka Shelley Bradley) is the New York Times and USA Today bestselling author of over forty sizzling contemporary, erotic, paranormal, and historical romances produced via traditional, small press, independent, and audio publishing. She lives in Texas with her husband, munchkin, and one very spoiled cat. In her "free" time, she enjoys reality TV, reading and listening to an eclectic blend of music.
Shayla's books have been translated in about a dozen languages. She has been nominated for career achievement in erotic romance by RT Bookclub, as well as twice nominated for Best Erotic Romance of the year. Additionally, she's either won or been nominated for the Passionate Plume, the Holt Medallion, Colorado Romance Writers Award of Excellence, and the National Reader's Choice Awards.
A writing risk-taker, Shayla enjoys tackling writing challenges with every new book.
Lexi Blake
lives in North Texas with her husband, three kids, and the laziest rescue dog in the world. She began writing at a young age, concentrating on plays and journalism. It wasn't until she started writing romance that she found success. She likes to find humor in the strangest places. Lexi believes in happy endings no matter how odd the couple, threesome or foursome may seem. She also writes contemporary Western ménage as Sophie Oak.
---
---
---
---