Just Caspian
Series: Norwood Brothers
Genre: New Adult Romance
Release Date: May 2, 2015
---
---
Our love was epic. Our pain was inevitable.
We shared demons, but his were always darker than mine.
We always fought them head on.
Until tragedy changed him, and he lost his way.
I'll do anything to help him find his way back home.
Things won't be the same until he's just Caspian again…
*This is a standalone novella and a spin-off series from the Hollywood Timelines series featuring Caspian Norwood and Ginger Teague, characters introduced in The One Thing*
---
---
Find out how it all started...
Read the Hollywood Timelines Series!
Book 2: The One Thing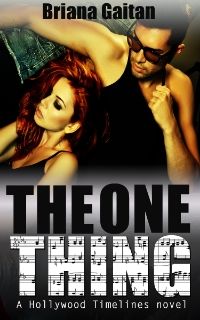 Amazon
~
iTunes
~
Kobo
~
Smashwords
Bash: Hollywood Timelines Short Story - FREE from 2/13-2/15
Maria: Hollywood Timelines Novelette
---
---
Briana Gaitan grew up in the South, but calls herself a geek at heart. She is a blogger,author,and fangirl who loves Star Wars, Star Trek, and Jewelry (bet you never thought you'd hear those three things in a sentence together) For fun, she loves watching any show on the SyFy channel, relaxing with her family, reading, and listening to indie music (sometimes all at the same time). Briana loves to write stories where there are no limits to the imagination. She is the co-author of the fantasy Ethereal Underground series and author of the Hollywood Timelines Series.
---
---