---
---
The One Thing
Series: Hollywood Timelines, #2
Genre: Contemporary Romance
Release Date: January 16, 2015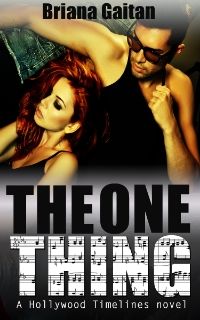 ---
---
When everything falls apart, he's the one thing that holds me together.
Ginger Teague may seem like your typical Hollywood actress with the famous boyfriend, designer clothes, money, and hit TV show, but constantly being in the public eye has its downside.
People seem more interested in her chaotic relationship with her on again/ off again boyfriend than her acting career,and Ginger isn't dealing with her new found fame in a way she always envisioned. She masks her unhappiness with too many parties and an unhealthy habit of binge drinking. As much as she wants love, men find her as a pretty amusement, not the type of girl you take home to mom and dad.
She meets Caspian Norwood, and they start a regimen of flirty emails.
He's a struggling musician that doesn't quite fit her idea of the perfect boyfriend.
He's older, mysterious, cultured, knows exactly what to say and do in all the right situations, and Ginger can't help falling for him. But the world is against them, pushing them apart, and it's beginning to feel as if they are only meant to be friends.
---
---
---
---
The One Thing is a so much more than a love story – it truly was a story about two people who needed to find themselves before they could find each other.
Ginger seemed to be the one who had it all – she's beautiful, has money, has a great job as an actress on a top-rated tv show, and is involved with one of Hollywood's hottest stars. But when things start to fall apart and the demons and insecurities from her past begin to surface, she tries to drown it all out in the bottom of a bottle.
Caspian Norwood is not Ginger's type – at least not the type that Ginger goes for to keep up with her Hollywood persona. But there is something about him that continues to draw her back to him, seeking the comfort that only he seems to bring her. Caspian is dealing with his own problems and issues, and is not in a place to offer Ginger anything more than a friendship.
Although time and fate continue to keep Ginger and Caspian apart, you could always feel the bond that existed between these two and you knew it was something special, something that time and distance couldn't break down. And when reality comes crashing down on Ginger and she has to face up to the fact that her drinking has become a problem, it's that bond that Ginger draws strength from to help her through the rough times she will face.
What I loved most about this story was that Ginger was able to draw upon her own strength to make the changes she needed in her life. Even though Caspian may have been the initial trigger, she quickly realizes that she had to make the changes for herself. And once she realized that, well watch out, Ginger was 100% committed to doing what she needed to find her way back to herself.
I loved that we got to catch up with Quinn and Chase from the first book, as well as some of the other characters that we met in book one. Quinn is Ginger's "person", and it was great to see that relationship was still so tight even though Quinn and Chase have started their life together.
I really enjoyed this book and love the use of the text messaging/instant messaging/emails between Ginger and Caspian. Even though this is book two in the series, you don't need to read book one to know what is going on – you should though, since Quinn's story was just as good! Looking forward to whatever comes next from Briana Gaitan!
I was given a copy of this book from the author for an honest review.
---
---