---
---
Simmering Ice
by Veronica Forand and Susan Scott Shelley
Series: Atlantic City Hustlers, #2
Genre: Contemporary Romance
Release Date: July 7, 2015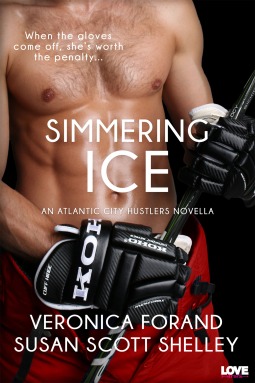 ---
---
When the gloves come off, she's worth the penalty...
Physical therapist Annie Davidson is great at her job but unlucky when it comes to love. She's just out of a bad relationship. A really bad relationship. All she can do is focus on work...that is until she runs into professional hockey player Alec O'Meara. She's a touch insecure and doesn't understand why he's interested in her.
Despite being one of the biggest players on the team, right winger Alec O'Meara prefers finesse over force. After the tragic death of his wife, he likes to keep things loose on and off the ice. But the red-headed Annie challenges his beliefs and makes him think about taking their relationship to the net.
The passion and fun they share is addicting and makes them long for more. But her insecurities that she's not good enough, and his anxiety over a long-term commitment will keep them apart, unless they can find a way to break through the defenses they've built around their hearts.
---
---
---
---
This was a great read that had so much going on it was hard to believe it was only a novella. And unlike most novellas, the only thing this story left me wanting more of was the next book in the series.
Alec was everything you would want in a man. He's suffered the tragic loss of his wife, but once he meets Annie he is open to the possibility of…more. He's the grounding force of his hockey team, and although his nickname Sequoia refers to his size, it's really more a testament to how big his presence and personality are on and off the ice. And watching him take care of Annie when she gets injured was just….*sigh*.
Annie has all sorts of issues to deal with when it comes to her self-esteem – I just cringed every time Annie's mother opened her mouth. Talk about a mother who was totally unsupportive and judgmental, it's no wonder Annie was always second guessing herself. She's had some bad luck in the dating department as well, most recently finding out her boyfriend had been cheating on her for quite some time. Although she is attracted to Alec, she still doubts herself and is afraid to trust that what they may have is anything that can last.
Alec and Annie together were such a great couple. What starts off as a friendship based on some one-on-one time on the basketball court quickly develops into something more. Annie is just what Alec needs to begin to move on with his life since his wife's death. She's vibrant and fun, and isn't afraid to challenge him. Their banter was fun, and until Annie begins to cloud her feelings with her insecurities they look to be on a smooth course to a happy ever after.
It was great to spend some time with the team, on and off the ice, and it was nice to see Zac and Heather (from book one) and catch up a bit with them. It's always fun to hear the banter and ribbing amongst the guys on the team, and it was fun to watch Annie in the middle of it during the event she attended with Alec.
This is a great, quick read, perfect for any romance lover!
I received this book from the publisher via NetGalley for an honest review.
---
---